Compassionate Care, Advanced Medicine,
All Close to Home
Providing Better Healthcare And Better Healthcare Experience
We believe aging should be celebrated, honored, and valued. We do that by meeting the unique needs of our members, promoting their well-being for a stronger, longer life. We offer a comprehensive program that includes a variety of health, social, and support services in a protected, home-like setting during weekday hours. Our program of care is designed to meet the individual needs of adults with health care issues such as Confusion & Memory Loss, including Alzheimer's, Stroke, Parkinson's as well as Loneliness & Depression. 
General & Laparoscopic Surgery Department
The General and Laparoscopic Surgery Department at Amcare Hospital is well equipped with the latest technology and infrastructure, supported by an experienced team of surgeons. The department specialises in performing all major surgeries involving abdomen, skin, breast, soft tissues, and hernia. Laparoscopic surgery is also known as key-hole surgery or minimally invasive surgery. It is widely used in gynaecology, gastroenterology and urology. Patients receive specialised assessment, latest treatments along with clinical post-operative care, medications and a regular follow-up. The advantages of laparoscopic surgery over traditional open surgery include a shorter hospital stay and faster recovery time; less pain and bleeding after the operation; and reduced scarring.

Minimal Access/Laparoscopic Surgery is a surgical technique which involves small (keyhole) incisions instead of large cuts. The surgeon introduces a telescope with a video camera through this incision into the body cavity and operates by viewing the internal parts on a TV monitor. In traditional open surgery, the surgeon is unable to see directly into the patient without a large incision. The video camera efficiently becomes a surgeon's eyes in minimal access surgery, since to perform the procedure; the surgeon uses the image from the video camera placed inside the patient's body. When the abdomen is operated using a telescope, the procedure is called laparoscopy. On the other hand, when used in a joint, it is called arthroscopy, and when used in the chest, the procedure is called thoracoscopy.
Benefits of Minimal Access Surgery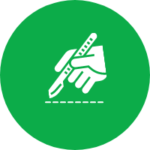 Small Incisions, Smaller Scars
Lower Blood Loss
Less Internal Scarring
Reduced Risk of Infections.
Faster Recovery
Shorter Hospital Stay
The department is supported by state-of-the-art equipments viz. Image, karl storz – Endovision system for laparoscopic surgeries, steel modular theaters, high end C-arm, anesthesia workstations, harmonic scalpel for bloodless open and laparoscopic surgeries.